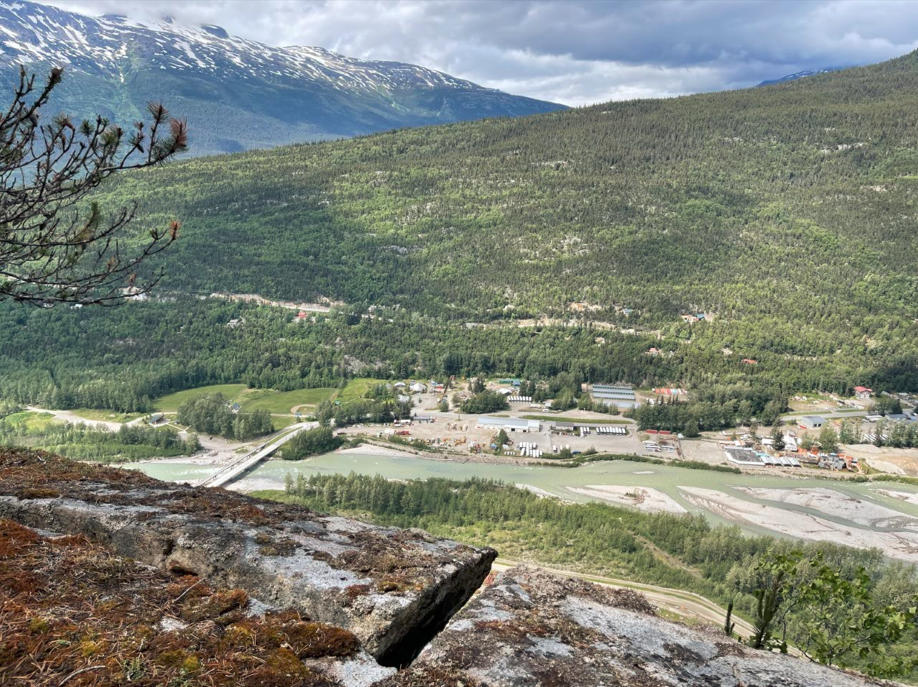 Although R. joined me here at the residency this past Sunday morning, he continued his remote work until his vacation officially began on Thursday, after which he and I met up with a friend and former classmate from Skagway, J., for a walking/hiking exploration of his recently purchased 60 acres of land, much of it vertical, almost all of it wooded and mossed, with protective devil's club in the swampiest parts of the gullies, and a portion of it including a small, sandy-beached lake, magically nestled among trees and ferns.
It's been a long time since I've spent a whole day just playing in the woods.
We easily avoided the devil's club, and we kept watch for bears, air horn at the ready and powerful pepper spray as a last resort; we were swarmed by Alaska-sized mosquitos any time we quit moving, but there was little concern for ticks (Lyme disease is not yet established here, but climate change is expanding its northern range) and none at all for chiggers or fire ants or poisonous snakes or heat exhaustion, all four of which are always lurking in Texas. After accessing J.'s property from an established trail, we bushwhacked over repeated ridges of errata covered in spongy moss and fallen hemlock needles; we tramped a new route to the eastern ridge line overlooking the town and an even better one back to the center of J.'s land; we found a mountain goat skull with one horn long and characteristically curved and the other reduced to a nub (Deformed from birth? Broken in battle? Eaten after death?).
We had a few moments of silence among us, but many more of stories and geographical observations and humorous commentary, and when we left J.'s property, we hiked back down to the valley along a more traveled route toward dinner and ice cream (not necessarily in that order) and more hanging out, more connecting with J. and other friends in town, thanks to J. and his driving tour. And Thursday followed Tuesday's afternoon and evening—after R.'s and my work—when we met another friend, T., who with her own abundant energy, generosity, and positivity, drove us up a portion of the Klondike Highway to Carcross for all of us to meet with her mother (ten years older than my mother, a family friend from those decades ago when I lived here) for dinner and re-connecting conversation and wrap-around hugs.
On both outings, we had deep fun—non-commercial, unscripted, physically vigorous, socially bonding, memory-making—fun and happy times with friends: a gift, a delight, a joy.