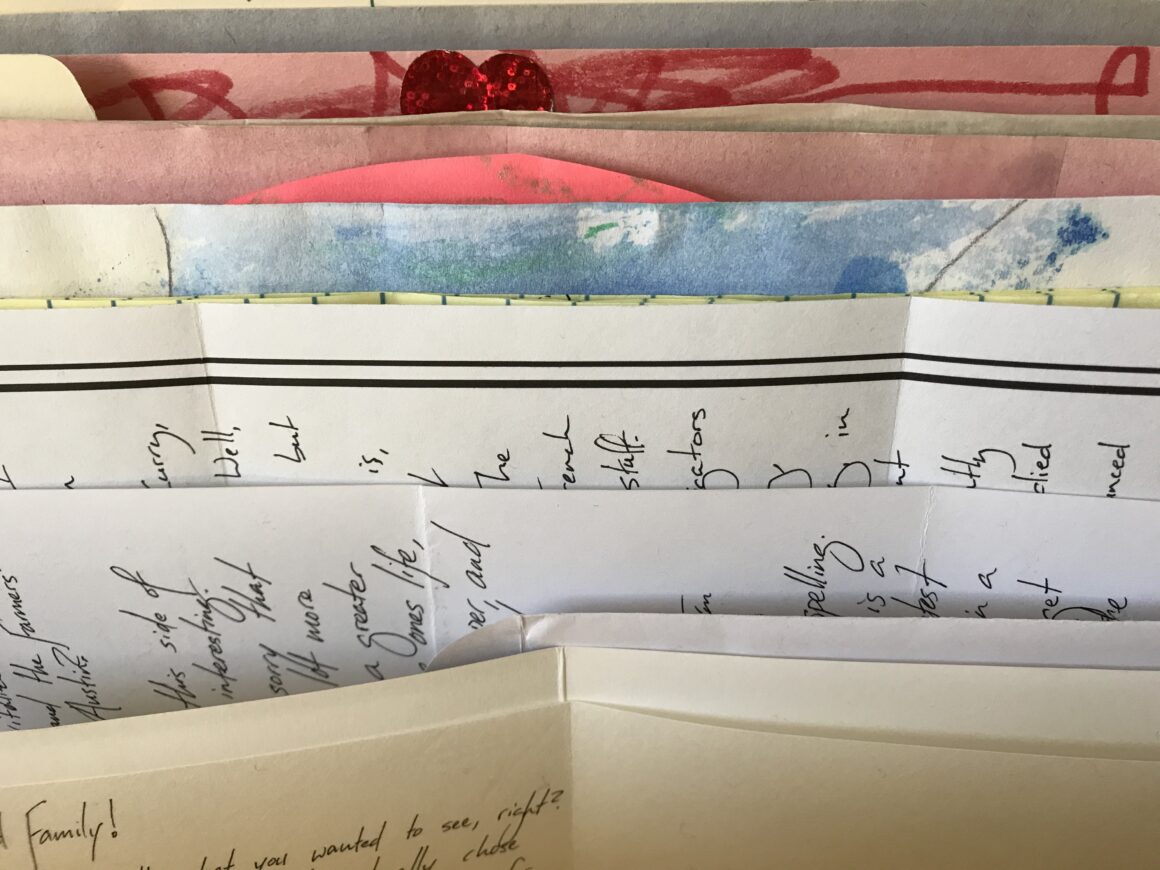 When you've used your dining table as a desk and your kitchen counter to process the incoming mail, then you have company over for dinner (in the years Before Coronavirus) or the least-excuse "holiday" to celebrate, and you dump all the haphazardly piled papers into a cardboard document box to tidy up, and you do that for maybe a decade or so, including a few house moves, you have a ridiculous number of boxes to sort through. Or at least I did. Over the past couple of months of this paper project of mine, our recycling bin has swallowed years' worth of welcome letters from old jobs and utility bills and expired sale fliers, but not without my steeling myself against the urge to continue to save most of it. I was an American Studies major in college, and I read with fascination the surviving ephemera (they thought) of other people's lives as part of my degree—a journal from a gold prospector in the Klondike in 1898; household purchases from 1921 carefully tallied in perfect script in a little lined notebook; 1950s magazine advertisements for housekeeping labor-saving devices, with a requisite tightly coiffed, beaming woman in the background. More important than macro-historical details (presidents, wars, technological developments), these are the records of life as it's lived by most of us most of the time: How homesick were you after the thrill of your adventure wore off? How much did it cost to heat your home that severe winter, or cool it during that summer's heat wave and drought? What were the cultural norms and pressures that shaped you?
An even stickier effort—but far more satisfying than any length of a ramble on social media—in which I've been deeply enmeshed this week: processing decades of personal letters. If you have written me a physical letter from the heart, with any details or depth at all, I have saved it; you're astonishing and articulate and cherished. I used to have a system where I filed letters alphabetically, but my "to be filed" box(es!!!) of letters accumulated for far longer even than the general paperwork; back in the earliest days of email (yes), I actually printed what people sent me (more formal missives than the general mode is now), because I didn't trust the technology to keep the record. (I was right about that—none of those early service providers and their tiny, clunky servers still exist, nor my own computer and hard drives, the rivers of correspondence which rode along them similarly evaporated.) This week, I've retroactively switched to a yearly filing system for anything that needs processing, and as I've thrown away envelopes and tucked treasures into the date-matched folders, I've been awash with emotion—falling in love even more, even more deeply—at the sweep and beauty of all our lives over all this time.
Cherubic children in holiday photos, now with babies of their own. Graduating high school seniors, now middle-aged, sometimes struggling in the wilderness, then or now. Wedding invitations of couples now divorced. A friend announcing her reunion with the baby—now a 20-something—she placed for adoption when she herself was a teenager. A friend, now officially a sister (thanks to my brother) and soulmate (thanks to that friend's relationship skills). A beloved writing from prison, the envelope stamped with an assurance/warning about its contents being uncensored. A beloved agonizing about life in 2004, assigned male at birth, confirmed as a woman in 2018. My sisters' distinctive handwriting and thoughts. My mother's book reviews. My maternal grandmother's last letter to me before Alzheimer's stole her lucidity and removed my favorite return address on any piece of mail, except for the much later ones from Japan, South Korea, Russia, and Ukraine (you know who you are and when that was!). Postcards from everywhere. Love letters. Thank you notes for gifts and help I often don't remember giving. Generous apologies. Generous responses to my apologies. Generosity all over the place. The announced triumphs, the between-the-lines disasters; the publicly celebrated joys, the private pains; the heart-pounding, gut-wrenching gorgeousness of it all.