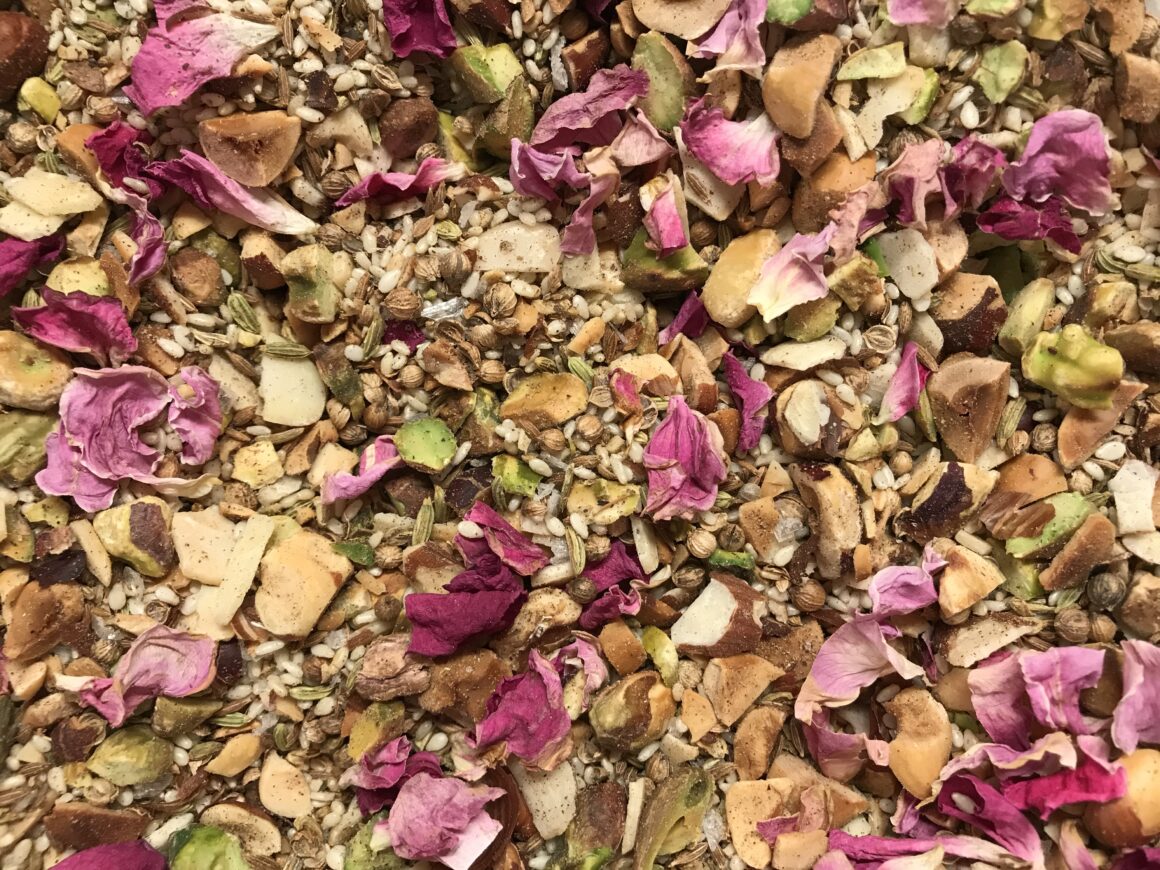 You're on the right track for a pretty wonderful homemade condiment if the first step of your recipe involves gathering fresh rose petals. Fallen blossoms littering the ground is one of my favorite conditions in the natural world: I get giddy over the soft yellow sea on gravel beneath palo verdes; a path through a wild area can't get better than when it's strewn with blooms. Color and fragrance above; color and fragrance beneath; an enveloping of myself in the plant's shaken spread. There's a relaxing of the trees and bushes that happens when the flowers have done their attracting work, and you can sense that, their exhalation of relief, their loose abundance, their casual generosity, their absolute abandonment to the cycles of the seasons.
So, for this dukkah, adapted from Aran Goyoaga's entry in her beautiful Cannelle et Vanille, you start by finding a rose bush in bloom—is it in your own garden or a neighbor's or a nearby nature path bordered by wild roses? (Do you live somewhere with a trail lined with wild roses?! May I visit you when they are at full flush?!) Here in Austin right now for me, that rose bush was in our front yard a few days ago, before the soaking thunderstorms.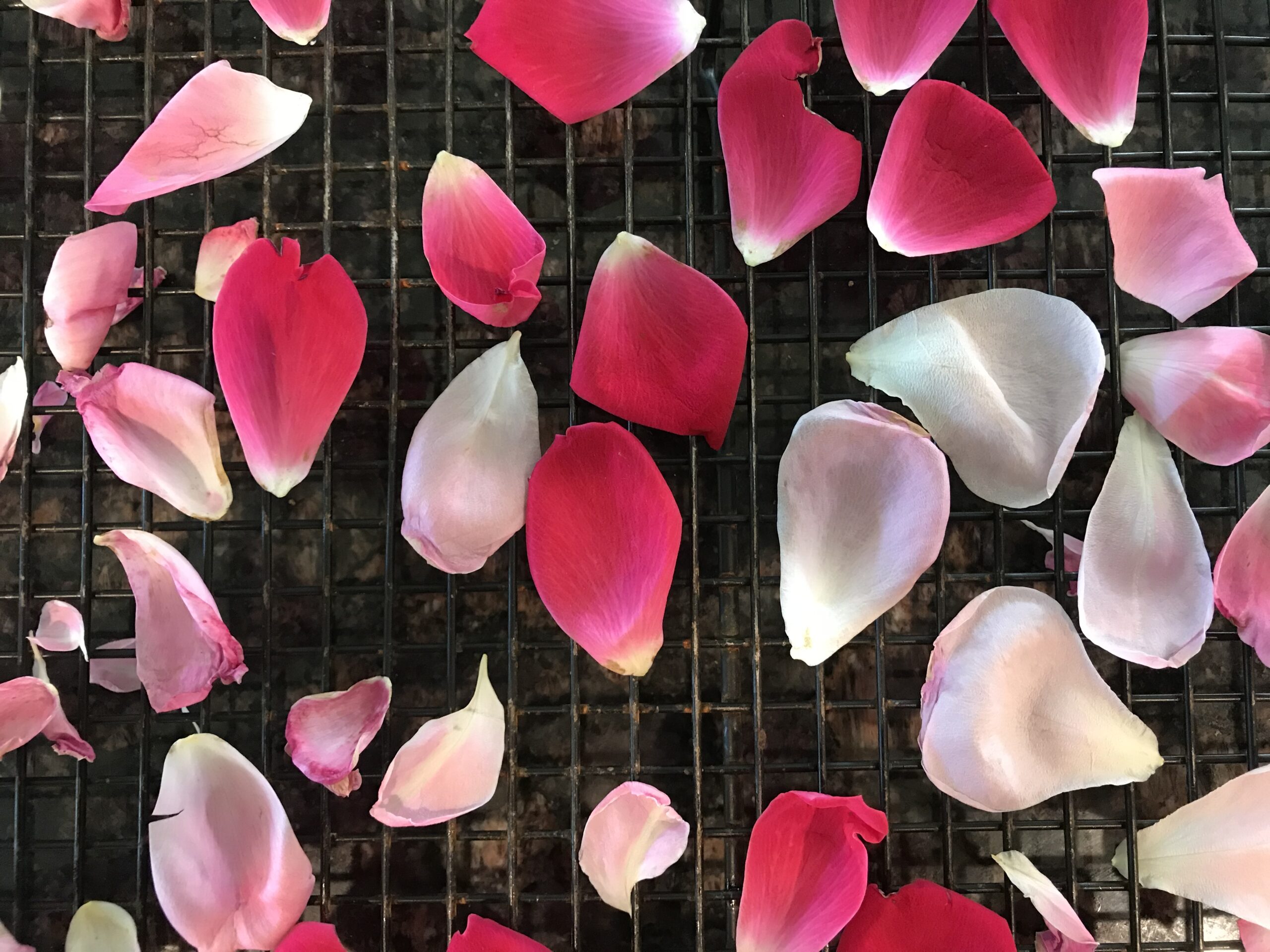 Pull from the roses a few handfuls of petals that they're willing to release, spread them out onto a cooling rack, hope you won't have days of high humidity, and let them dry. (You may also have more efficient ways of drying rose petals while still maintaining their color and fragrance; I don't.)   You'll only need about 2 teaspoons for the recipe, but they shrink even more than spinach does when cooked, so you'll need a full rack's worth. Marvel over the fact that you'll soon be eating these drying rose petals sprinkled on everything you can possibly imagine.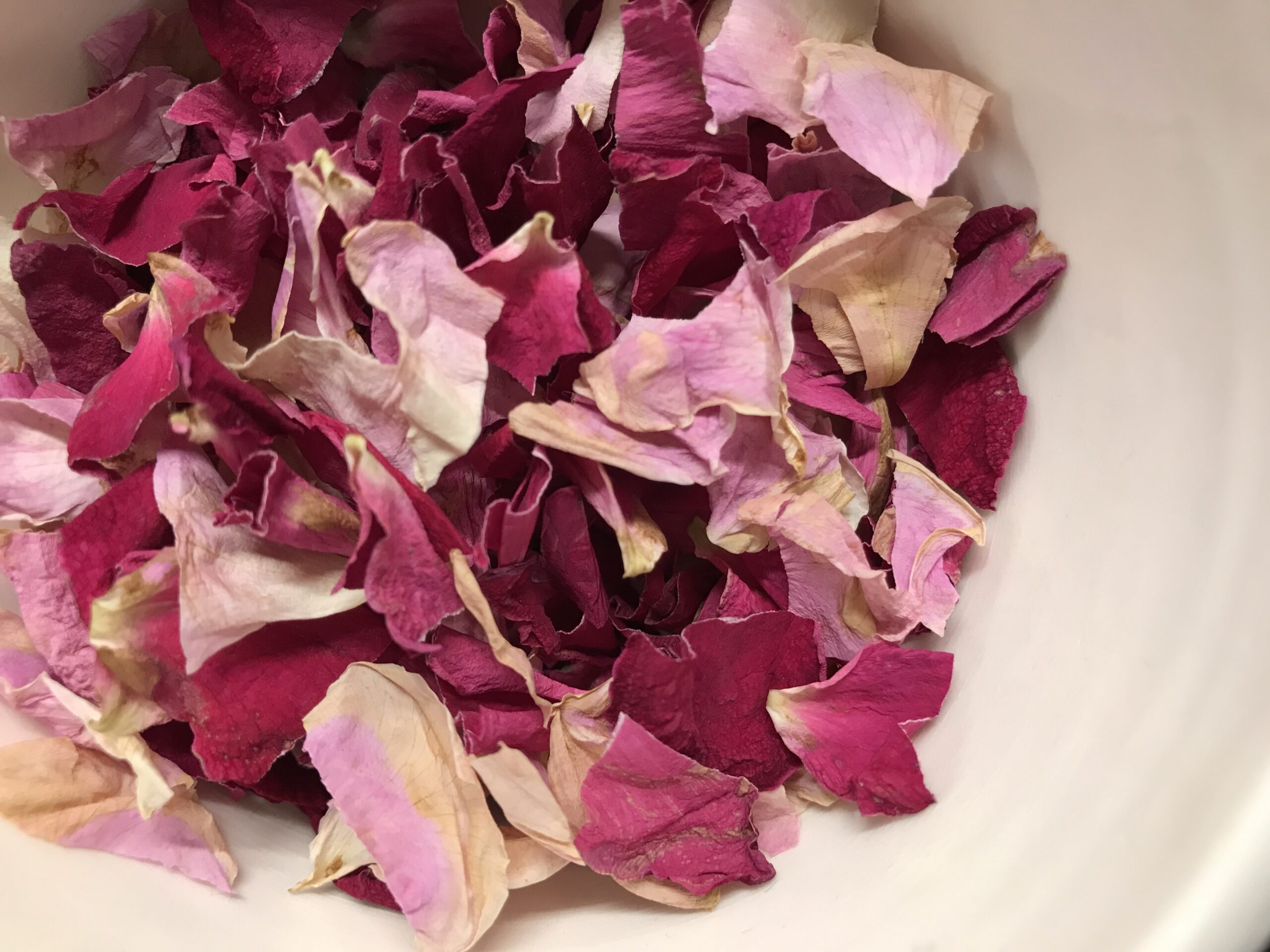 Then, once your rose petals have dried:
Toast 1/4 C. sliced almonds and 1/4 C. raw pistachios in a small, dry cast iron skillet over medium heat until they're fragrant. Add 1/4 C. (or a little more, if you love them, which I do) already roasted hazelnuts (Because who has time for the whole rubbing-the-skins-off-in-a-kitchen-towel business?! Just scoop from the next bin in the bulk aisle at the grocery store, the roasted next to the raw…) to the almonds and pistachios on a cutting board and chop coarsely, then add this nut mix to a medium bowl.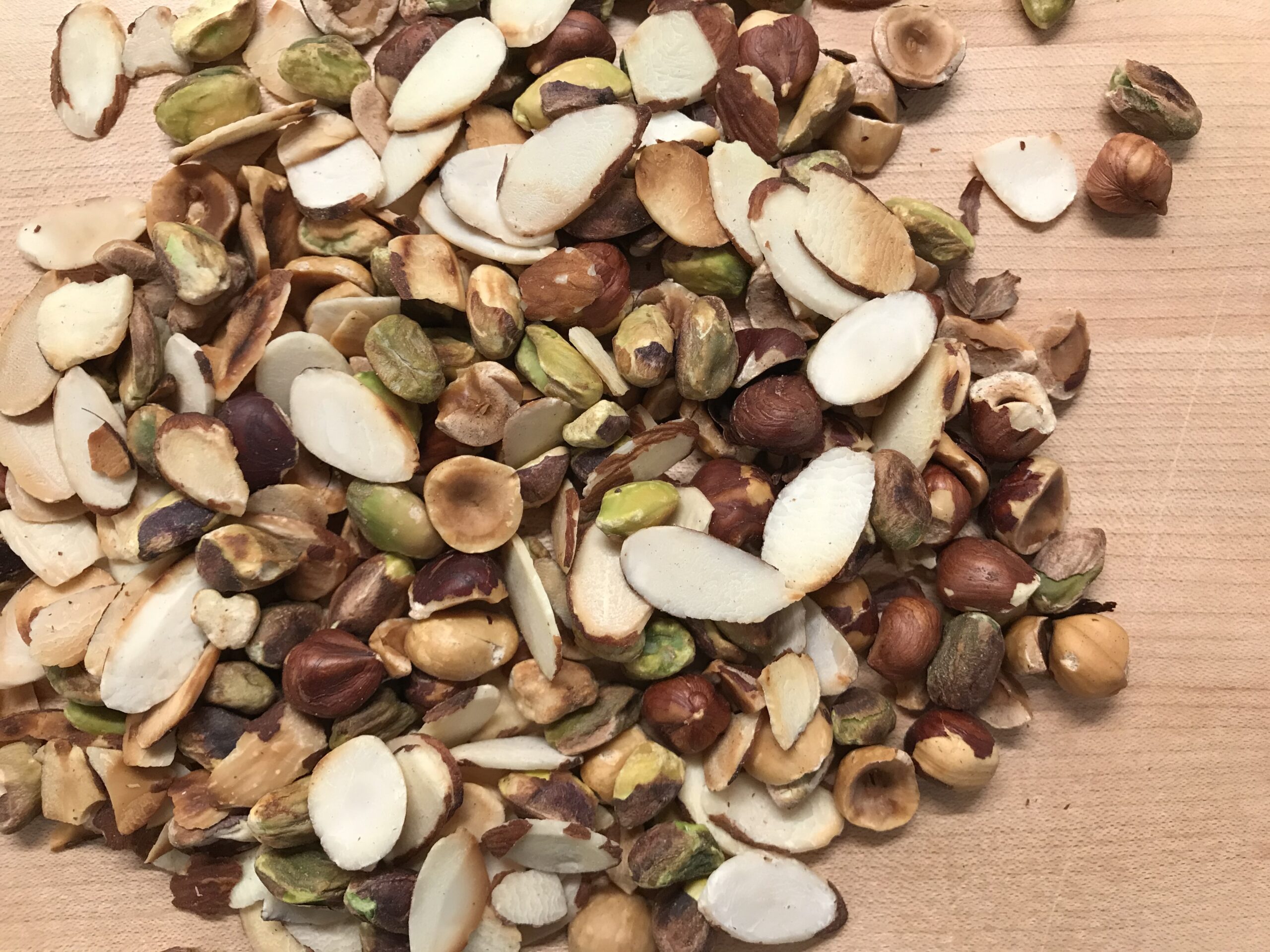 Toast 1/3 C. hulled sesame seeds in the same trusty skillet until they're fragrant and barely golden, which will only take about one minute. Add them to the bowl with the nuts. Toast 2 TBL. whole cumin seeds, 2 TBL. whole coriander seeds, and 1 TBL. whole fennel seeds in the same skillet for about another minute, releasing their own lovely fragrances and giving them a golden glow. Transfer to a mortar and pestle and grind coarsely.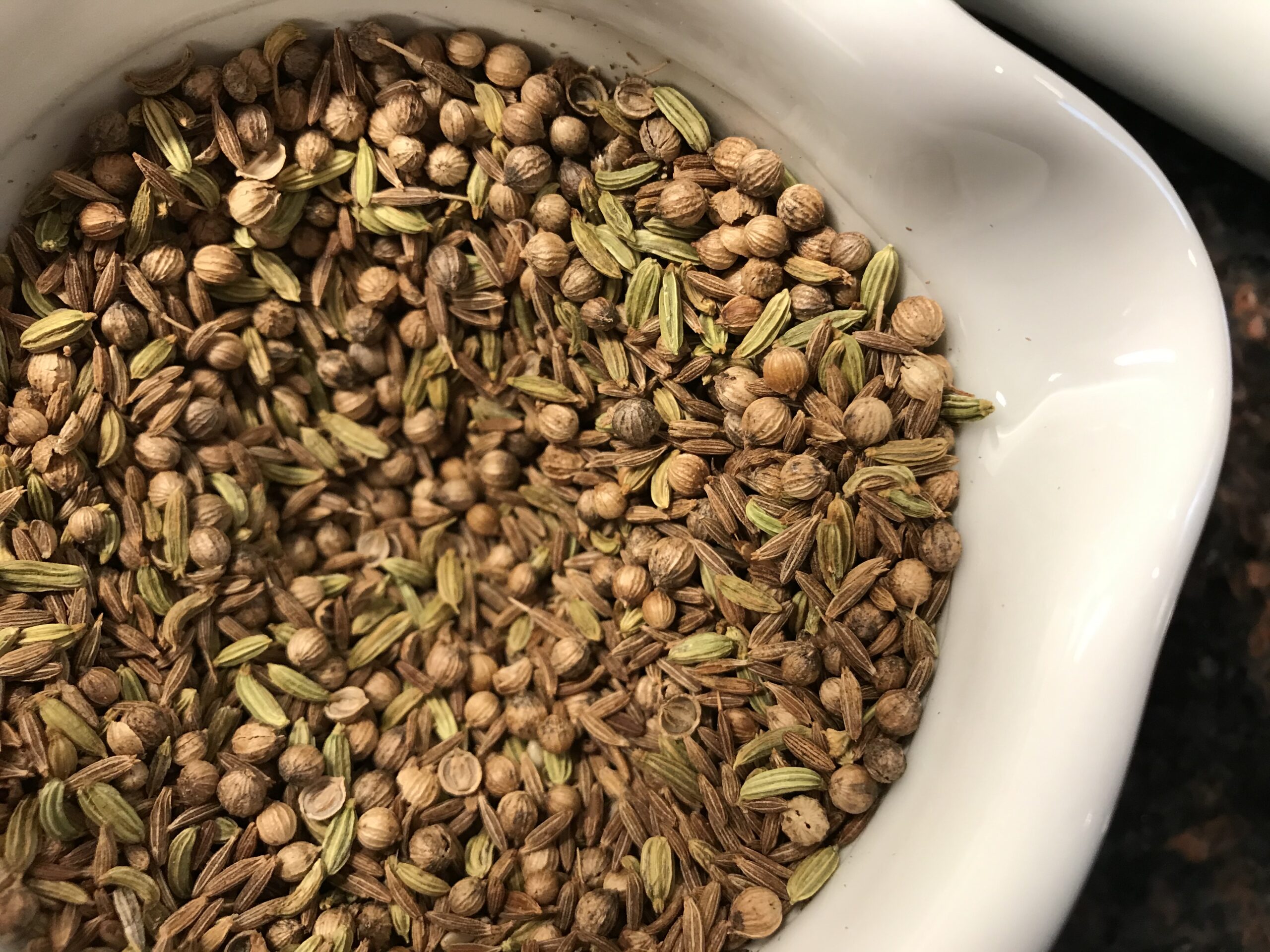 Add the ground seeds/spices to the bowl. Add 2 tsp. dried rose petals (you may wish to tear some petals into smaller pieces), 2 tsp. flaky sea salt (Maldon!), and 1-1/2 tsp. freshly ground black pepper. Stir well, then make sure it's cool before storing in a sealed jar for up to 1 month (as if you could let it last that long!). You will probably feel happier about everything you eat—salad, roasted veggies, avocados, cottage cheese, eggs, chicken, fish, etc.—that has a bit of this crunchy, salty, green and pink and warm spice mix on top. I definitely do.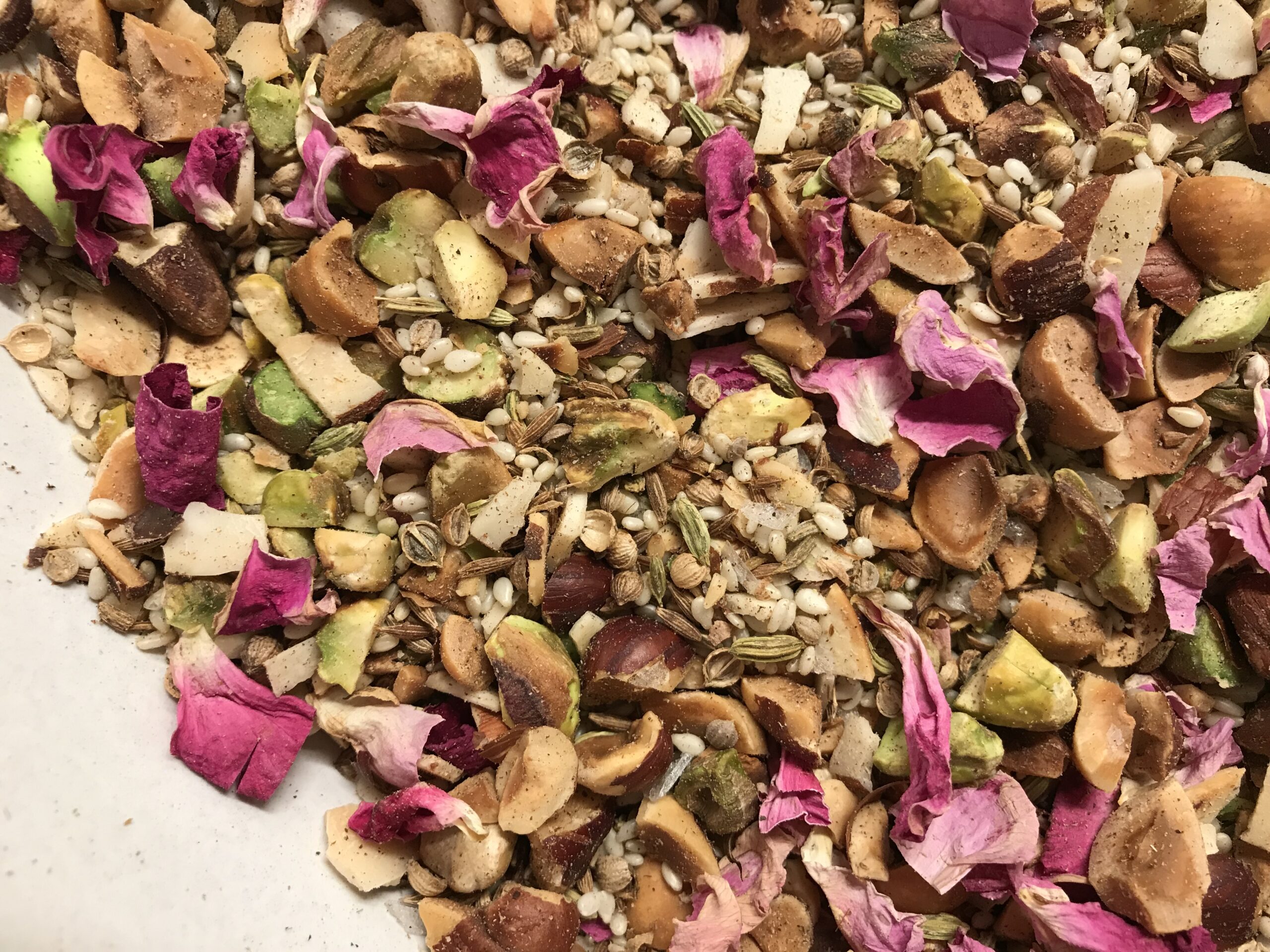 P.S. My favorite source for spices: Penzey's