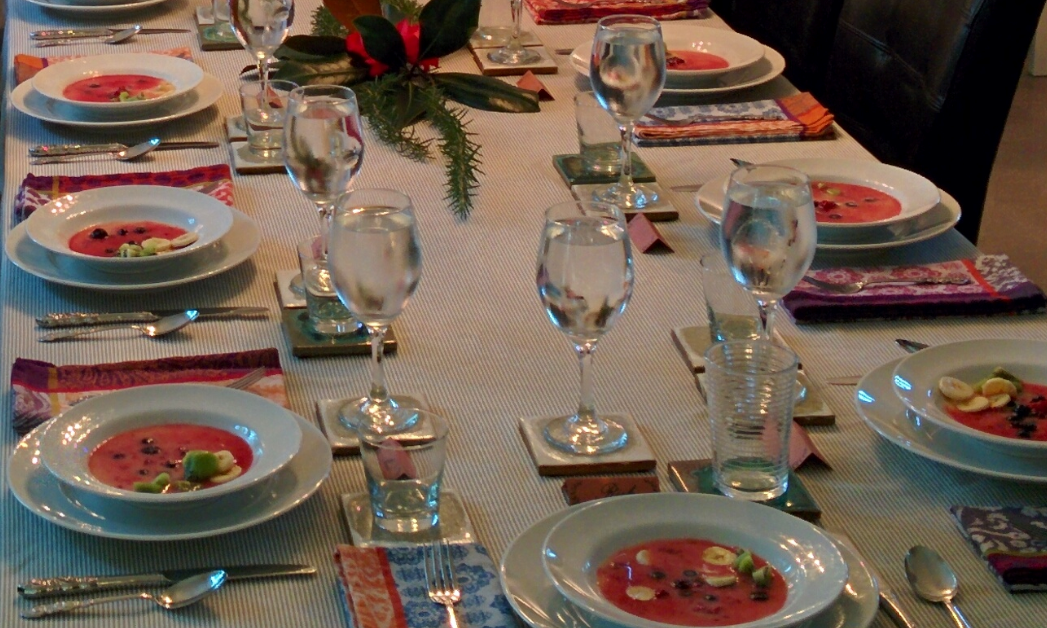 If this were a normal year, similar to the past seven years or so—obviously, it's not, but let's imagine for a moment—all my family members who live in Austin would gather at my husband's and my house for the Thanksgiving meal. We'd be hosting 21 beloved, engaging people, ranging in age from two eight-year-old best friend "cousins" (my granddaughter and my niece) to our two retired mamas in their 70s. We'd place all the extension leaves in the table and construct a runner down the center of it with grasses and branches foraged from the nearby wild areas. We'd set up the kids' table right next to the bigger one. My brother would have worked another magic spell to make a huge turkey and all its meat drip with juice and flavor; my sister and brother-in-law would whip up all the Southern orange-colored things (sweet potato casserole with pecans, GF pumpkin pies); and I would add at least the cold appetizer fruit soup, the Italian sausage stuffing, and a dish of hearty greens. Probably an apple galette, too, and plenty of whipped cream. All of us would make everything from scratch, sharing appreciation for our efforts to nurture (and impress?) each other; every year, I have experimented with at least one new recipe, which is how the Italian sausage stuffing from Gourmet magazine's Thanksgiving 2007 (!!!) edition became a tradition. At around 2:00, we'd hold hands to express gratitude, leaving us at least six hours to delight in each other's company and our shared bounty.
But this isn't a normal year. This year, because of our extended family's unified desires to protect each other's health by following disease-prevention guidelines, we are not celebrating in person together. I don't get to host and cook for 21 people that I love, and I feel sad about that. I miss the close physicality of most of my people.
At exactly the same moment—the complex beauty of duality!—I don't have to cook for 21 people or set up the house to welcome them. As much as I love that effort, it's not on my to-do list this November 26 (and the days before!). Thanksgiving 2020 is different, and I can lean into those differences and find what's interesting and revelatory about them. I can question my old assumptions, see things from outside a comfortable rut, try more than one new, small recipe; I will definitely be chopping fewer onions! As with most Thanksgivings in my life, I can marvel anew at the luck and joy of having living loved ones to share a home with, more than enough food, sturdy health. As with most Thanksgivings in Austin, I can bask in the sunshine, the mid-70s temperature, the gentle breeze. Although almost everything structural has changed about this holiday season, nothing at the center of it has, these essential elements of the best holidays that can be endlessly generated and shared, whatever our circumstances: creativity, gratitude, and love.