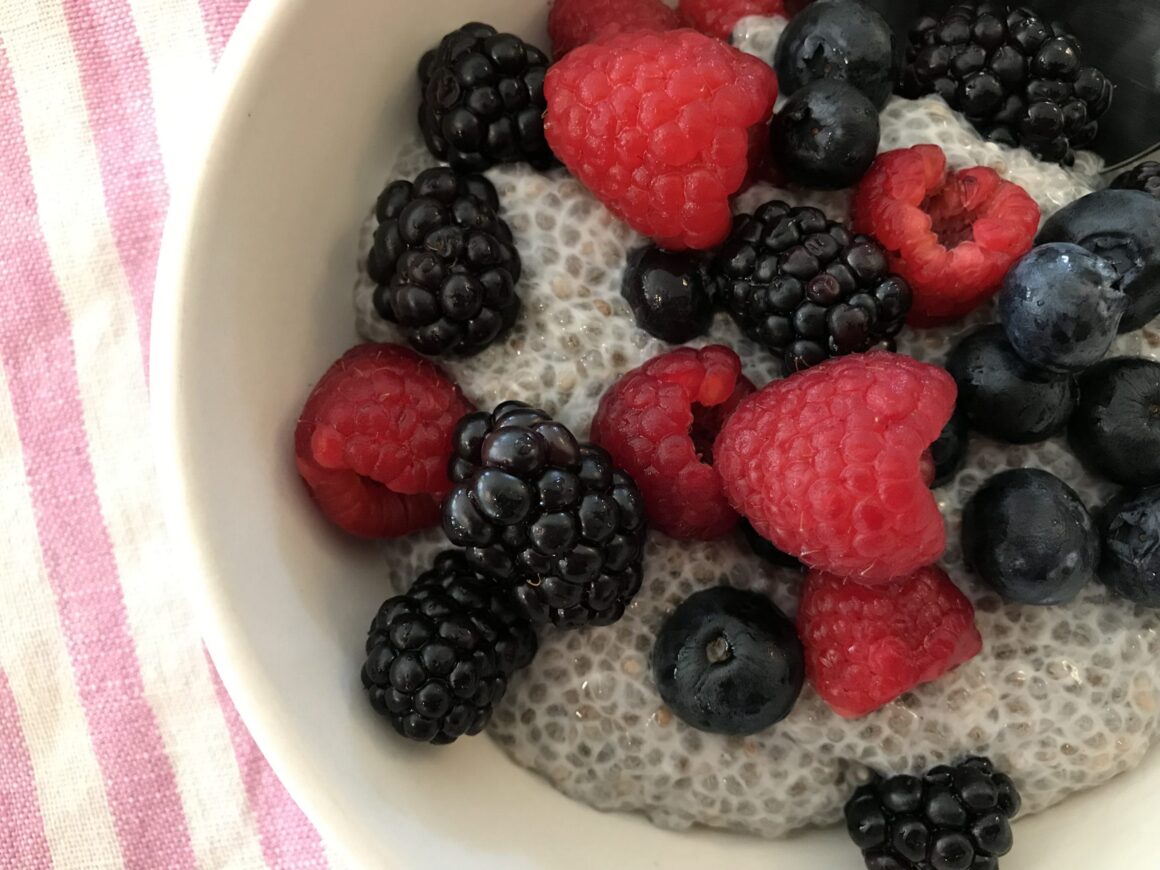 "Time for a Little Something"
What constitutes the perfect food? There is, of course, no one answer nor even a short list, especially given the wide range of contexts—budget and availability, geography and culture, lifestyle and stage of life, hunger level and health needs—in which we source, prepare, and consume our meals, whether for just ourselves or also our loved ones. But—for me, when something is easy to put together, satisfying to eat, responsive to multiple variations, and generative of both physical and mental energy, I'm a fan.
 
Here's the basic outline for my latest go-to:
 
CHIA PUDDING
Recipe below is for one serving; amounts are easily multiplied for identical results.
(Lends itself well to meal prepping—with one serving per container—or making a bigger bowl to last one person all week or to serve a group.)
 
INGREDIENTS:
1/2 C. nut or dairy milk of choice (my favorite: Unsweetened Milkadamia with Vanilla)
 
2 Tablespoons chia seed
 
1/2 teaspoon local honey or dark maple syrup (optional)
 
PROCESS:
Pour the milk into a container with a lid.
Sprinkle the chia seeds on top, then drizzle the honey or syrup (if using) on top of the seeds. Whisk the seeds and sweetener into the milk.
Let sit for a few minutes, then whisk the mixture again, to ensure it stays homogenized as the chia seeds gel by soaking up the milk, for a minimum of two hours in the refrigerator.
Kept cold, the pudding will last 5-7 days.
 
SERVING IDEAS:
As is.
Experiment with different milks for a variety of flavor profiles.
Experiment with different fruits/berries sprinkled on top, singly or together.
Toast or soak a handful of nuts and/or seeds to sprinkle on top, without or in addition to the fruit.
Drizzle another 1/2 tsp. honey or maple syrup over each serving.
Drizzle finishing oils on top for even more flavor.
 
 
Having said all that: Last weekend, we were lucky to have a cherished friend and her two young daughters staying with us. I thought I would serve the chia pudding for breakfast, but when the nine-year-old and I talked about what she imagined as the ideal vacation meal, we ended up with homemade whole-wheat chocolate chip scones, freshly whipped cream, thick-sliced bacon, and strawberries the girls had picked themselves, with a garden mint sprig as a garnish. So—sometimes, that's the perfect food.