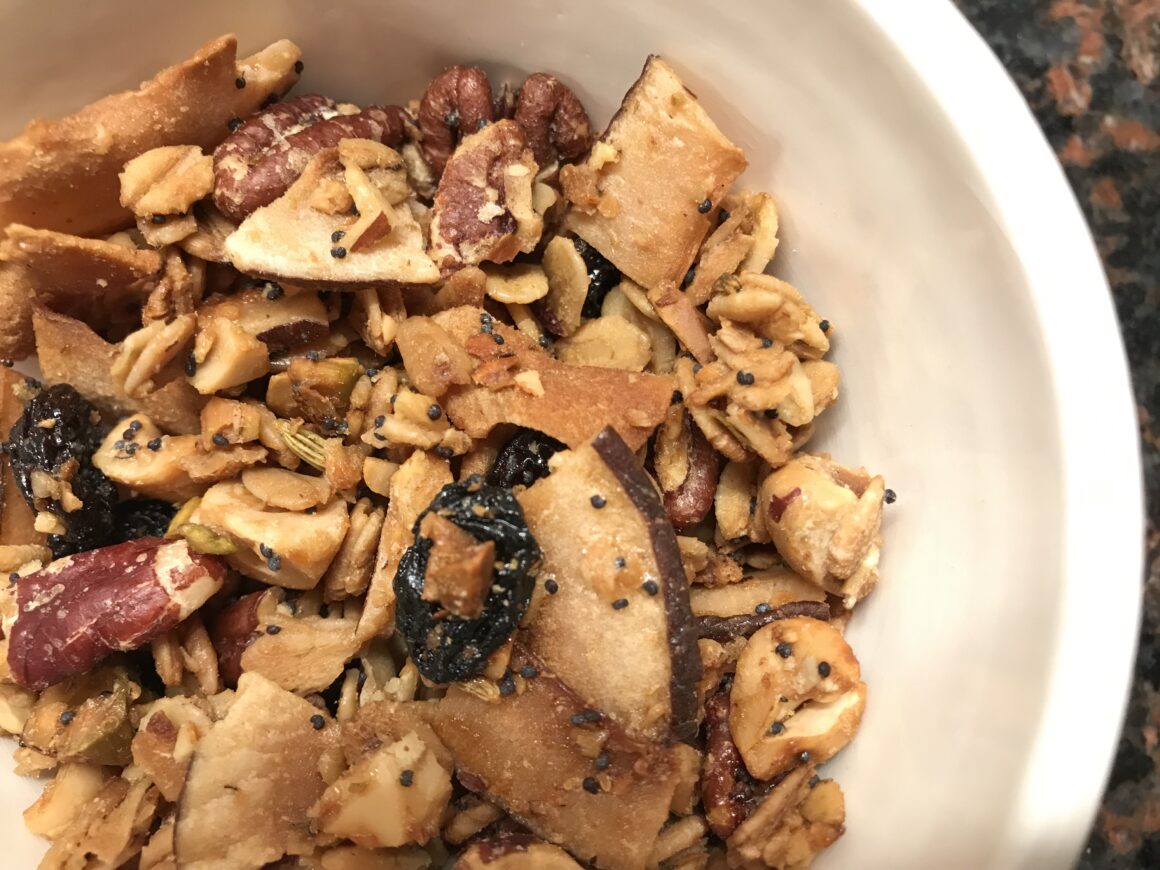 There are many areas in my life in which I am reliable, consistent, compliant with the program; I floss every night, for example, without exception. When it comes to eating plans, though, I'm a bit more…flexible. As with, say, granola in response to a chilly fall day, to having a son and his girlfriend home for Thanksgiving week (yay!), to, well, a craving for crunchy carbs. Over the years I have cycled through a wide range of granola recipes—from my mom's, to Claire's Corner Copia's, to Molly Wizenburg's—but our current iteration is probably our favorite. One thing that's great about baking a batch of granola is that—depending on the number and appetites of folks in the house—it lasts for days in a lidded glass jar, providing just the nibble at just the moment without needing to start from scratch in the kitchen.
 
Every recipe I've tried from Nic Sharma's Season: Big Flavors, Beautiful Food has been a revelation, where familiar main ingredients become transformed through Indian-influenced seasoning and accessible techniques. I've adapted his Granola Two Ways: Fennel and Ginger-Spiced Sweet Granola by reducing and substituting some of the fruit and increasing and substituting some of the nuts. (And I ensure the vibrancy of the spices by sourcing them from Penzey's—even our legendary Central Market here in Austin has only flat versions of the dynamic spices Penzey's offers, at no price difference.)
 
So, for this weekend and next, to accompany the gathering and the gratitude, a recipe for granola:
 
An Adaptation of Nic Sharma's Fennel and Ginger-Spiced Sweet Granola
Makes about 7 cups
 
3 C. old-fashioned rolled oats
3/4 C. raisins
3 Tbl. chopped pistachios (that beautiful green!)
3/4 C. chopped raw cashews
3/4 C. pecan quarters (chopped, if you want, or just halves broken in half by hand)
3/4 C. large, unsweetened coconut chips/flakes
1/2 C. roasted hazelnuts
1-1/2 Tbl. poppy seeds
2-1/2 tsp. fennel seeds
2-1/2 tsp. ground ginger
3/4 tsp. fine sea salt
3/4 C. maple syrup
3/8 C. extra-virgin olive oil
1-1/2 Tbl. apple cider vinegar
 
Preheat the oven to 300 degrees F. Line a large baking sheet with parchment paper.
 
In a large bowl, layer the oats, raisins, pistachios, cashews, pecans, hazelnuts, poppy seeds, fennel seeds, ginger, and salt. Pour the maple syrup, EVOO, and ACV in order over the dry ingredients, and stir everything together with a silicone spatula. Spread the evenly coated mixture up the sides and around the bottom of the bowl. Let sit for 20 minutes.
 
Stir again, then spread the mixture onto the lined baking sheet. Bake for about 30 minutes, more or less, checking every five minutes starting at about 20 minutes until it reaches the level of toasted chewiness or crispiness that you prefer. (For me, that's deep golden and very crispy, the Maillard reaction fully at play.)
 
Remove the baking sheet from the oven and place on a rack until completely cool, then store in an airtight container at room temperature for up to three weeks. 
 
 
You'll be hearing from me again on December 3; in the meantime, here's to a Thanksgiving holiday for you that holds everything your heart desires!