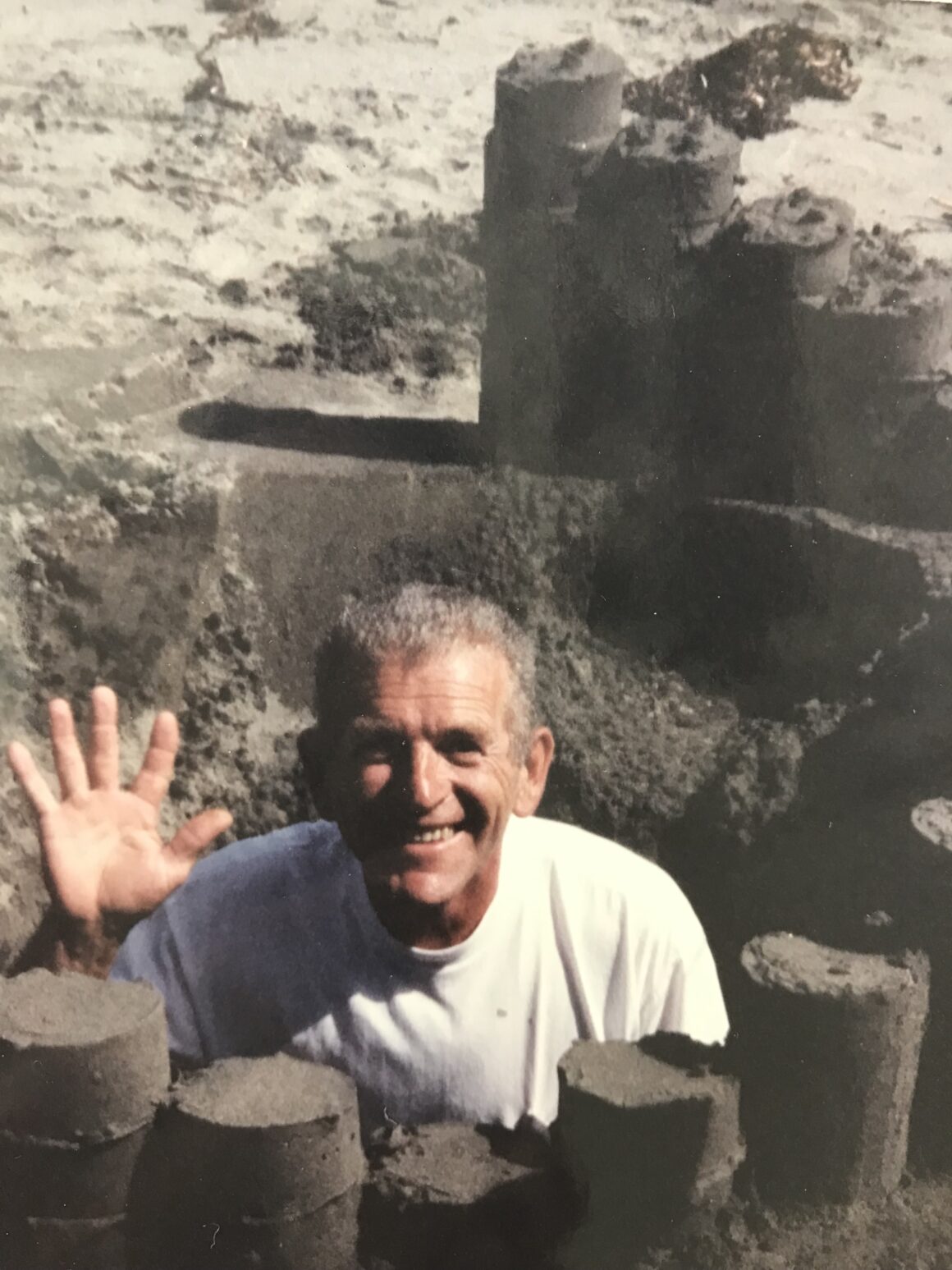 Structures, Sanctuaries, and Sandcastles
My mind was scattered and sticky this morning during meditation, unwilling to let go of what it landed on, which was images, one after another, of my Greek godlike dad—who became Papa to all of us once he was a grandfather—and, specifically, of his tendency to see vehicles (even the rare new ones) as just a starting point for his adaptations of their structures to his specific uses. None of those vehicular customizations was slick—he drove our family of four (before it grew to eight) to Alaska in the early 1970s in a Ford Econoline van (baby blue with flowers painted on the side), the heating stove's chimney sticking out of its compromised roof, #vanlife when it was original hippie and not hipster. Fine finishes weren't his forte; he wrangled and wrestled materials and spaces to serve the needed function, then started on his next massive effort, the latest legend in the making, before ever addressing the edges and surfaces of the last project.
In the push and pull of generational responsiveness and reactivity, in the persistence of DNA, these tendencies/superpowers can skip from Papa to grandchild, right through the daughter/mother intermediary (me) who has spent many hours of life trying to tidy up and make things smooth. During quarantine, we dedicated the smallest room in our house—the one we had used for my yoga and meditation practice and for welcoming guests—to our youngest son's exclusive use, partly to contain the maximalism of his personality and living. Over the year+ of sheltering in place, he reconfigured the room multiple times and completed various projects—some glorious, others not—and at his exit, I took stock of what needed repairing/replacing: the window (an effort to fix the etchings from the oxidative screen gone awry), the carpeting (a construct involving greased pipes embarked on without drop cloths), the ceiling and wall finishes (an installation—and then removal—of a series of LED strips that saturated the room with brilliant noonday light as a hedge against gloom). 
Although these needed repairs in just one room are simple, interior, domestic concerns, they act as a metaphor for this stage of life, where my husband and I and our home are flexing to release our sons, then welcome them, then release them again while they retain our home as their center in the world even as they are creating increasingly rooted bases elsewhere. Similarly, the location of my yoga and meditation practice shifts, from the center of the floor of the small, shadowy room to a narrow strip at the foot of my bed, and back again soon, after a visit this month from two of our sons and a friend. Because I can't help myself, I've smoothed the previously highly textured walls of the room to a pristine Level 5 by applying three layers of joint compound and sanding out any remaining imperfections, with the wide, repetitive motions of my arms opening my heart against its breaking. I'm in the middle of painting the walls a flat, very pale pink; the stains are out of the carpet; the window will be replaced, but not until November 2, given supply chain constraints. The room is becoming a new version of its sanctuary self, the inside of a shell, support for my daily mental and physical transformations and productivity through practice, shelter for our young adults here again, and gone again.