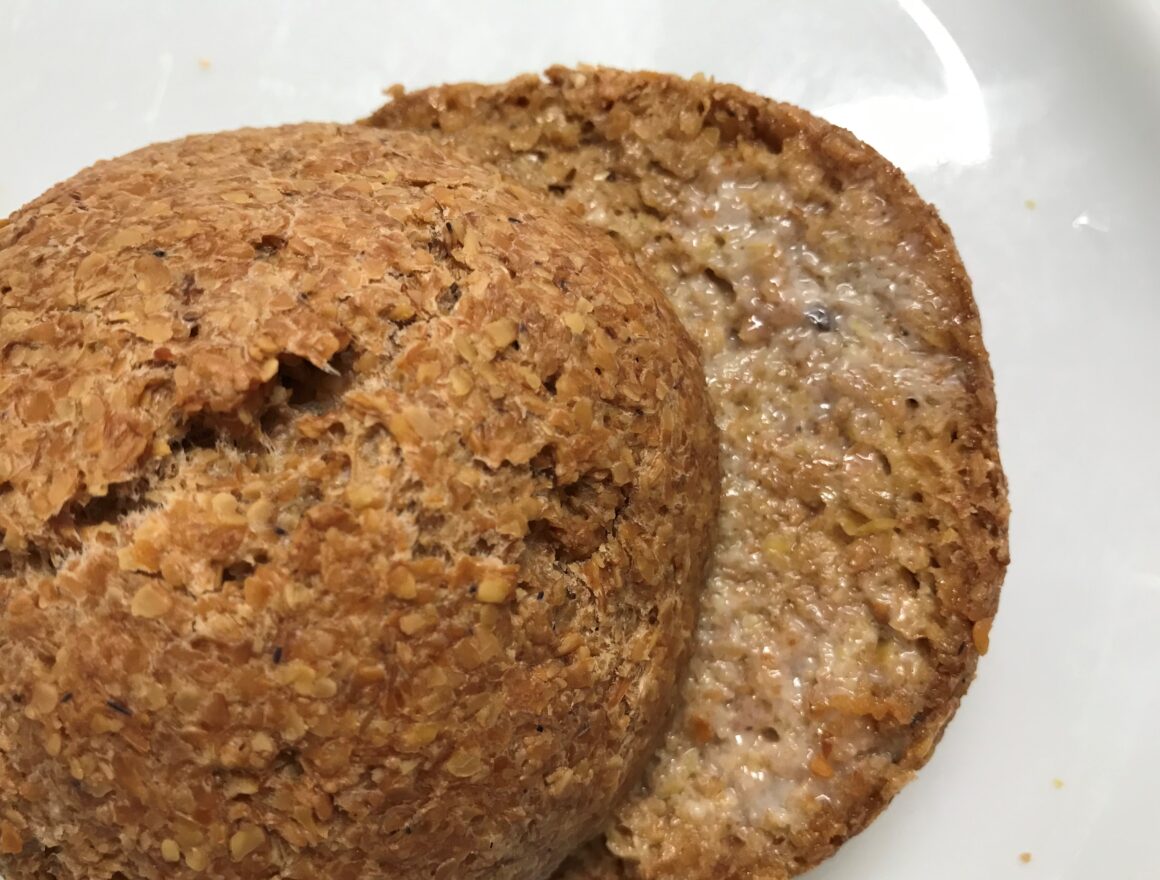 You know how I feel about toast, and great bread in general occupies a similar place in my heart and psyche—artisan or homemade or just the corner bakery, you know, if you're in France or Italy! (Perhaps another time I'll try to estimate, convert from hours, and then confess how many years I've spent baking bread.) This affinity (passion?!) can prove challenging as I'm trying to offer my body and brain a more supportive and sustainable low-carb, high-fat way of life. To the rescue: an adaptation of Divalicious' flaxseed and psyllium bread rolls, which I've renamed Salvation Rolls. They're my favorite way to eat (a lot!) of flaxseed; they're fragrant and dense and nutty; they're the perfect complement to avocado and cottage cheese. Recipe below. And hallelujah!  
Salvation Rolls (Adapted from Divalicious' Low-Carb Flaxseed & Psyllium Bread Rolls)
Ingredients:
 2 Cups ground golden flaxseed (I purchase mine from Costco in a 4-pound bag) 
 1 Tablespoon baking powder 
 1 teaspoon salt 
 2 Tablespoons psyllium husk powder
  
 2 whole eggs (whites and yolks) 
 3 additional egg whites
 4 Tablespoons melted unsalted butter
 2 Tablespoons apple cider vinegar 
 1/2 Cup boiling water 
Preheat the oven to 350F degrees.
In the bowl of a stand mixer, whisk together the dry ingredients: flaxseed, baking powder, salt, and psyllium husk.
Add the whole eggs and egg whites to the dry ingredients and whisk well.
Add the melted butter and ACV and whisk until combined.
Pour the boiling water over the mixture and whisk again to combine. The mixture—because flaxseed!—will be somewhat sticky and gelatinous.
Using wet hands, divide and shape the dough into 6 balls and place on a parchment paper-lined baking sheet. Use wet hands to smooth each roll into a lovely dome.
Bake for 30 minutes or so, until the tops of the rolls are slightly golden brown and a light tap on them sounds slightly hollow, indicating doneness.
Cool for just a few minutes before eating, if you want enough heat to melt butter, but not so much to burn your tongue. They keep well in a lidded glass container on the counter for a couple of days.
(Approximate nutritional data, per roll: 413 calories; 19g total carbs – 17g fiber = 2g net carbs; 13g protein; 33g fat)