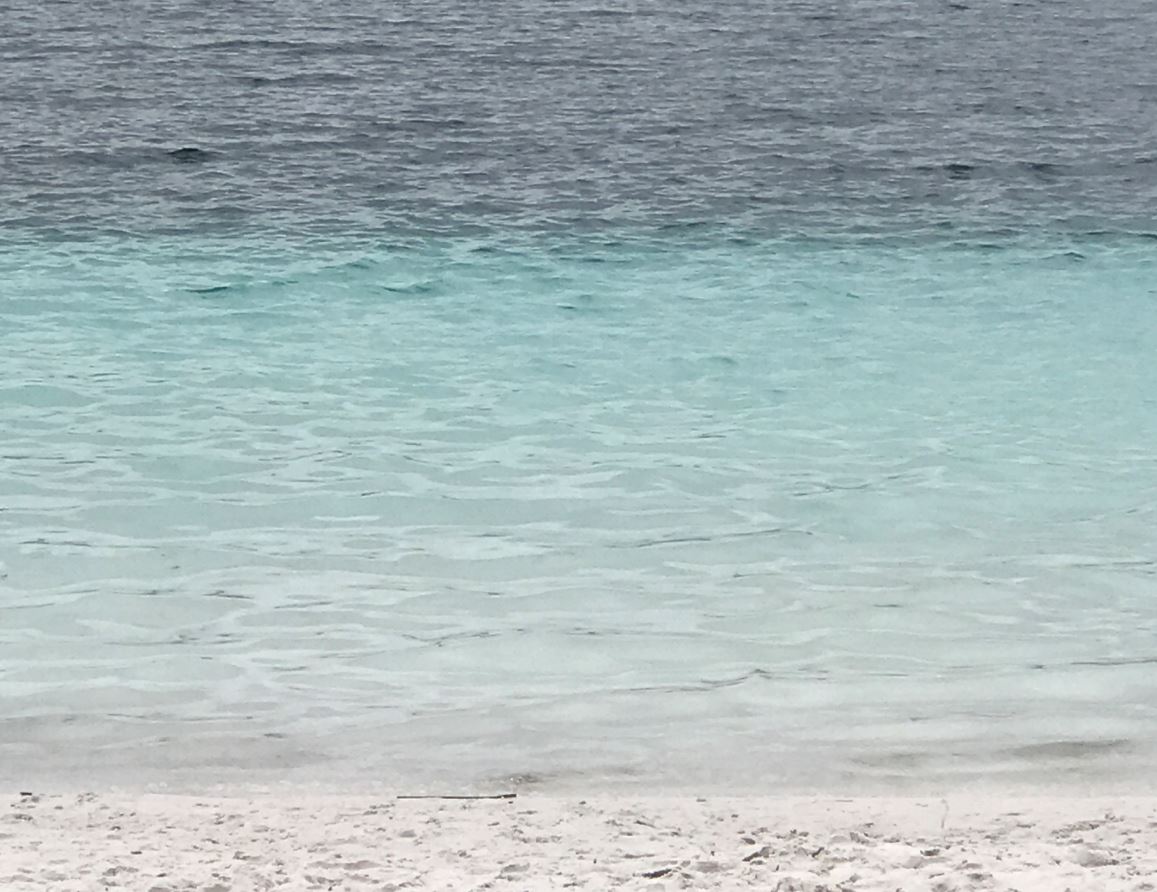 My husband and I were in Brisbane, Australia, for a few months near the end of 2017. Although he worked in a downtown office full-time Monday through Friday, we used the weekends to explore as much of the east coast of Australia as we could, which included a magical trip to K'gari (pronounced "gurri" by the Butchalla people whose traditional home it was). K'gari (aka Fraser Island) is a UNESCO World Heritage Site, the largest sand island in the world, with creeks and perched lakes lined and rimmed by nearly pure silica sand and filled with highly acidic water that discourages much plant growth or animal presence. We knew our day trip tour of the island would include an opportunity to swim in at least Lake McKenzie and Eli Creek, and there they were, pure and glorious, inviting us to immerse ourselves without a need to accommodate any mysterious flora or fauna in the murky depths or shallows—there was no murkiness, only perfect clarity, K'gari's lakes and creeks among the cleanest and clearest in the entire world.
The Saturday we went was uncharacteristically cold for the season, the guide told us. The sky was overcast, the breeze brisk and sharp. We had packed our suits and our towels in anticipation of the swims, but we were wearing jackets and scarves against the bite as we traveled by ferry from the mainland to the island. A group of 20-something-year-old Germans on the ferry clustered together for warmth, their shivering skin bared in their tank tops and shorts. I thought, "There's no way I'm not getting into the water when we're on the island, because it's an opportunity of a lifetime!" I thought, "But it's obviously too cold for me to enjoy swimming." And then I thought, "But what temperature is it, anyway?!"
I can do the math to convert Fahrenheit to Celsius and back again; the weather app on my phone will also do that work for me. But after a lifetime of applying a Fahrenheit reading on the thermometer to what that number feels like to my highly sensitive body, I was a bit innumerate when it came to Celsius for the whole time we were in Australia. I could see the number, but at first glance, I couldn't translate that into personal meaning, into my lived experience. Here in Texas, I know that I like our neighborhood saltwater pool best in August, when everyone else is sick of the pool and I often have it to myself; when the temperature of the water is consistently bathwater-warm; when the air surrounding my skin is either sunny and 100+ degrees (Fahrenheit!) or dark and in the high 80s. (And then there's how much I love, love, love a night swim at the end of a hot and humid summer day—liquid velvet.) So, what was it about the Celsius reading's being just a number—impossible to immediately compare and contrast with all my other temperature tracking and bundling up over the years (because growing up in Alaska! living in Chicago! Olympia, Washington's 45 degrees for ten months out of the year!)—that somehow liberated me to be completely present in and fully experience each moment as it unfolded on K'gari? I stripped down and plunged into the lake; I body-floated with the creek's current; my skin goose bumped and my teeth chattered and it didn't matter.